Hi, welcome to NewsBoys Wiki! Thanks for your edit to the Breakfast page.
Please leave a message on my talk page if I can help with anything! -- Uberfuzzy (Talk) 22:14, 3 July 2009
Thank You!
[
]
Thanks for all the help you have done to NewsBoys Wiki! I am Absorr, the maker and owner of this wiki, and you have been a really big help! I kinda took a long break to make videos on YouTube, but i decided to have a night-job on my wiki! I came back and I saw what u were doing, and i have to say, I am impressed! Keep up the good work! I would love to make you an admin, if I knew how! In time I will find out!
-Absorr Head Administer of NewsBoys Wiki
Thank you for...uh...thanking me! ReallyFree 12:51, 31 July 2009 (UTC)
Dude use this thing on albums at the top
ReallyFree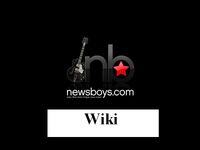 Released   -   _
Recorded   -   _
Length   -   _
Label   -   _
Producer(s)   -   _
Chart Positions   -  _
Previous Album   -  [[_]]
Next Album   -  [[_]]
Go here and copy the code. Than paste it at the top of an album's edit page and fill in the blanks! I have already done Go and In The Hands of God
Done.

REALLYfree

(talk)

12:37, 13 August 2009 (UTC)
Awards
[
]
Gold Editor Award => Presented to ReallyFree on October 25, 2009
LifeMusic Wiki
[
]
Hello! This is Master Fredcerique. I saw you on the Christian Music wiki and would like to invite you to LifeMusic Wiki, a new Christian music wiki alternative I created. I do not mean to draw you from the Christian Music wiki. I, in fact, still edit it. If you don't want to join, that's OK. By the way, I love the Newsboys and might join this wiki. God bless. Master Fredcerique 22:23, November 8, 2009 (UTC)
It Is You - Limited Edition CD
[
]
Hello!
I noticed you contributed the info for the "It Is You" limited CD single. Do you actually have this CD? If so, are you interested in selling/trading? If not, do you happen to know where it might be available? I've been searching for this CD for some time now, to no avail.
I've also noticed your extensive contributions to the Newsboys wiki here, and I certainly appreciate it!
God bless,
Paul Buethe
Hey!
I'm wondering how to get the "album" template on my new wiki, DC Talk
Later!